What is "Nightography"? Sounds normal, but if you know for sure, you will know how amazing it is! Everyone knows, everyone gives a thumbs up and a heart to love to support Samsung smartphone products! Especially the most famous camera.
The word "top smartphone" does not mean to call or put to every smartphone, it is important that the smartphone that deserves to be called has something very special that no other smartphone product can not reach or can not do! Today we are going to take a look at the first high-tech Nightography that comes with our 2022 flagship Samsung Galaxy S22.
Some smartphone cameras only shoot during the day or in a well-lit place or use a filter or Lightroom, but at night they do not dare to be removed because they are blurry. There are light spots and so on.
For the Galaxy S22 Series 2022, which has just been officially released and launched in Cambodia, we are equipped with the latest technology and have the ability to shoot at night as clearly as the top professional photographers! Now let's take a look together.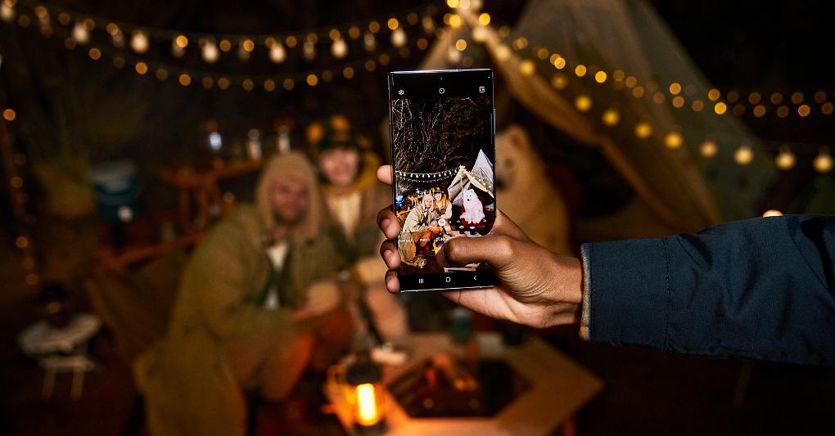 Please note that the Galaxy S22 Ultra is equipped with a function called "Nightography" that features a Large-pixel sensor of 2.4 micrometers that filters light with a lens that protects against glare (Anti- reflecting nano-coating on the Glass and Lens) making the image clear and clear, even when shooting at night or in low light or too bright.
When we shoot at night, the Galaxy S22 Ultra's Night Solution technology starts working with a number of frames (Multi-frame processing) and removes any blurry or blurry frames, leaving only the best frames. Clearly combine to create an image or a video using the latest AI-powered ISP Algorithm technology that you capture the brightest and most beautiful shape (Shape) or color ( Color tone) and other details (Details).
Please also note that for video recording on Galaxy S22 Ultra, Samsung has also incorporated the latest technology (OIS (Optical Images Stabilization) + VDIS (Video Digital Images Stabilization) to make video recording more stable. The color is clear and the original form is also perfect.
All in all, the Nightography featured on the Galaxy S22 Ultra is the first and only technology Samsung has developed so that smartphone users can take great pictures or videos as well as have great memories. (Helps you capture every moment) Clear, beautiful, and most attractive anytime and anywhere.
If you want to know more, you can buy and test it yourself to know exactly how great it is! With the flagship Galaxy S22 smartphone, you will get the ultimate photo or video experience just like the world's top professional photographers.